Home Care
Our care team makes healing at home a priority. By providing reliable medical assistance after surgery, injury or illness, we can help you maintain your independence and recover in the comfort of your own home. For more information about our Home Care services, call 440-639-0900.
Catering to you and your environment.
Our home care services are available short- or long-term to meet your individual needs, even if you haven't spent any time in the hospital. Whether you are recovering from a stroke, require post-operative care, physical therapy, IV therapy or need assistance dealing with your diabetes routine, we have the experience and technology to help manage your care.
A team approach
We assemble a team of professionals to best handle your needs. The team always includes your doctor and might also include nurses, home care aides, therapists and social workers. They will evaluate your condition, teach you the best way to care for yourself, and practice with you until you are comfortable providing your own care.
We're ready when you are
When your doctor recommends home health care, request a referral to Lake Health Home Care Services. We'll call you to set up an evaluation and work closely with you and your doctor to develop your care plan. We'll also provide regular updates on your progress.
Many insurance plans cover home health care. Whether you have private insurance, Medicare/Medicaid, or are self-pay, we are happy to help you sort through any insurance confusion.
Award-winning services
Lake Health Home Care has been awarded with the prestigious SHP Best Home Health Patient Satisfaction Superior Performer award, recognizing our high patient satisfaction scores.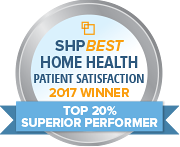 For more information about our Home Care services, call 440-639-0900.